Electric Heating Jacket Kettle for Cooking Jam Kettle Jam Pot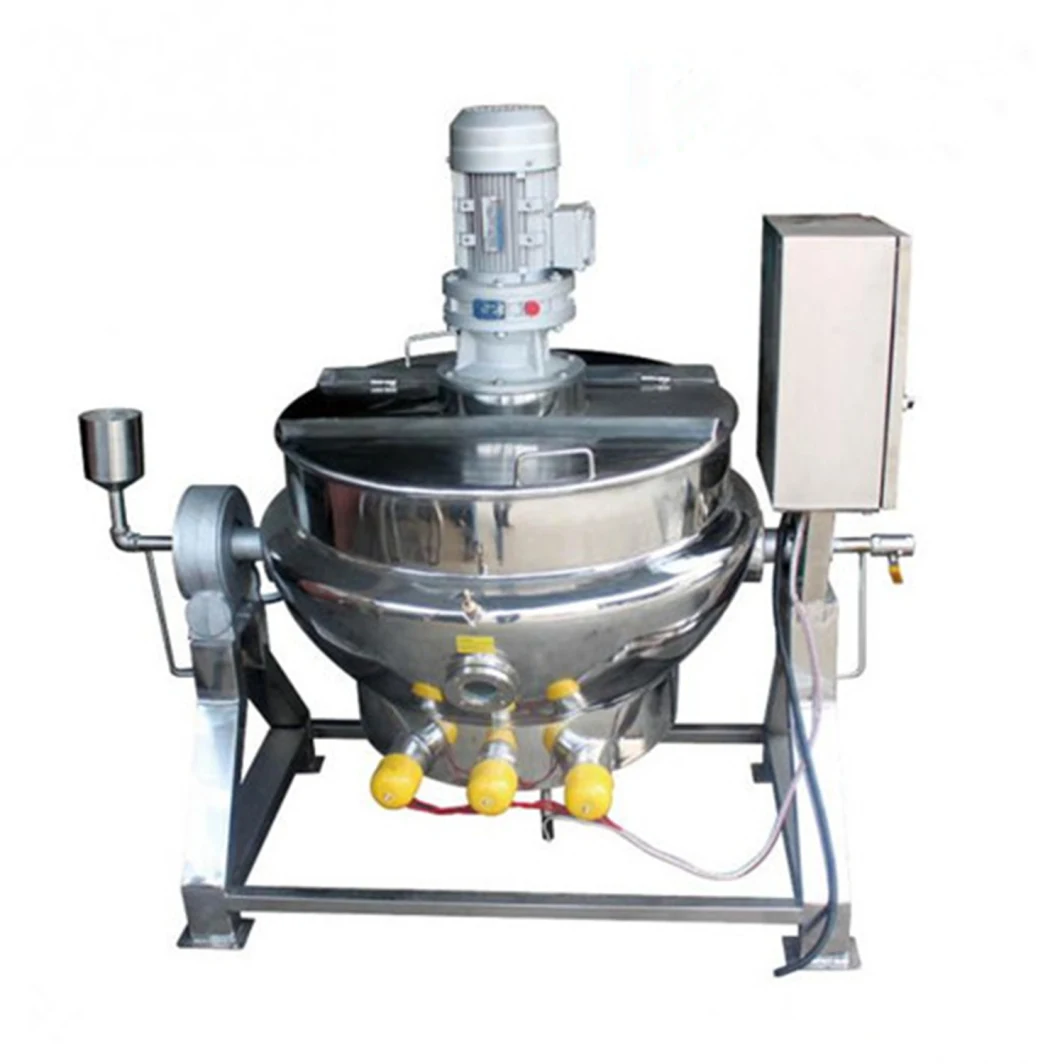 Sanitary stainless steel jacketed kettle(steam/electrical heating)
Material: SS304/316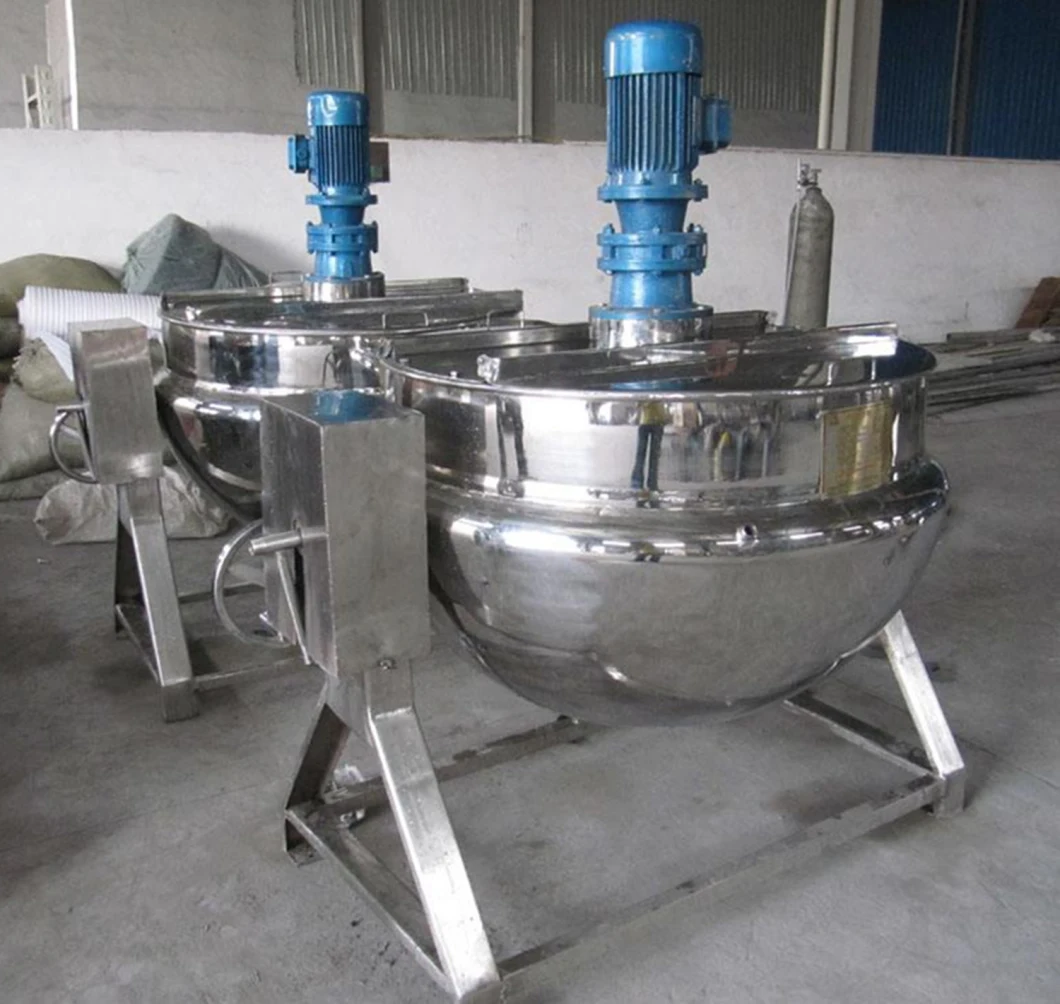 Capacity: 300L~1000L
1. Introduction of stainless steel steam jacketed kettle for jam making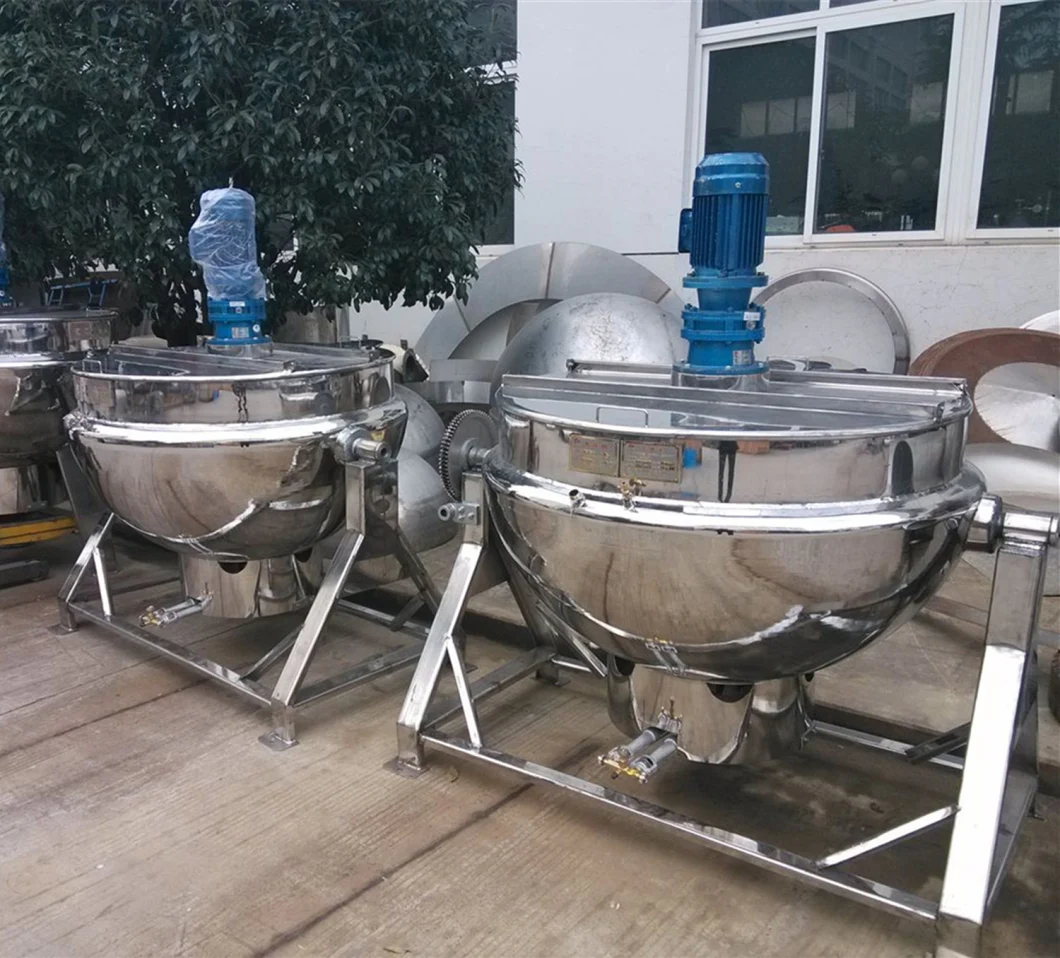 The jacketed kettle is suitable for mixing, concentrating and decocting the material in pharmaceutical, foodstuff and chemical industry etc. It is the best choose for jam making such as the matt jam and strawberry jam making, tomato sauce making. And candy, medicine, dairy, alcohol, cake, beverage, sweetmeat.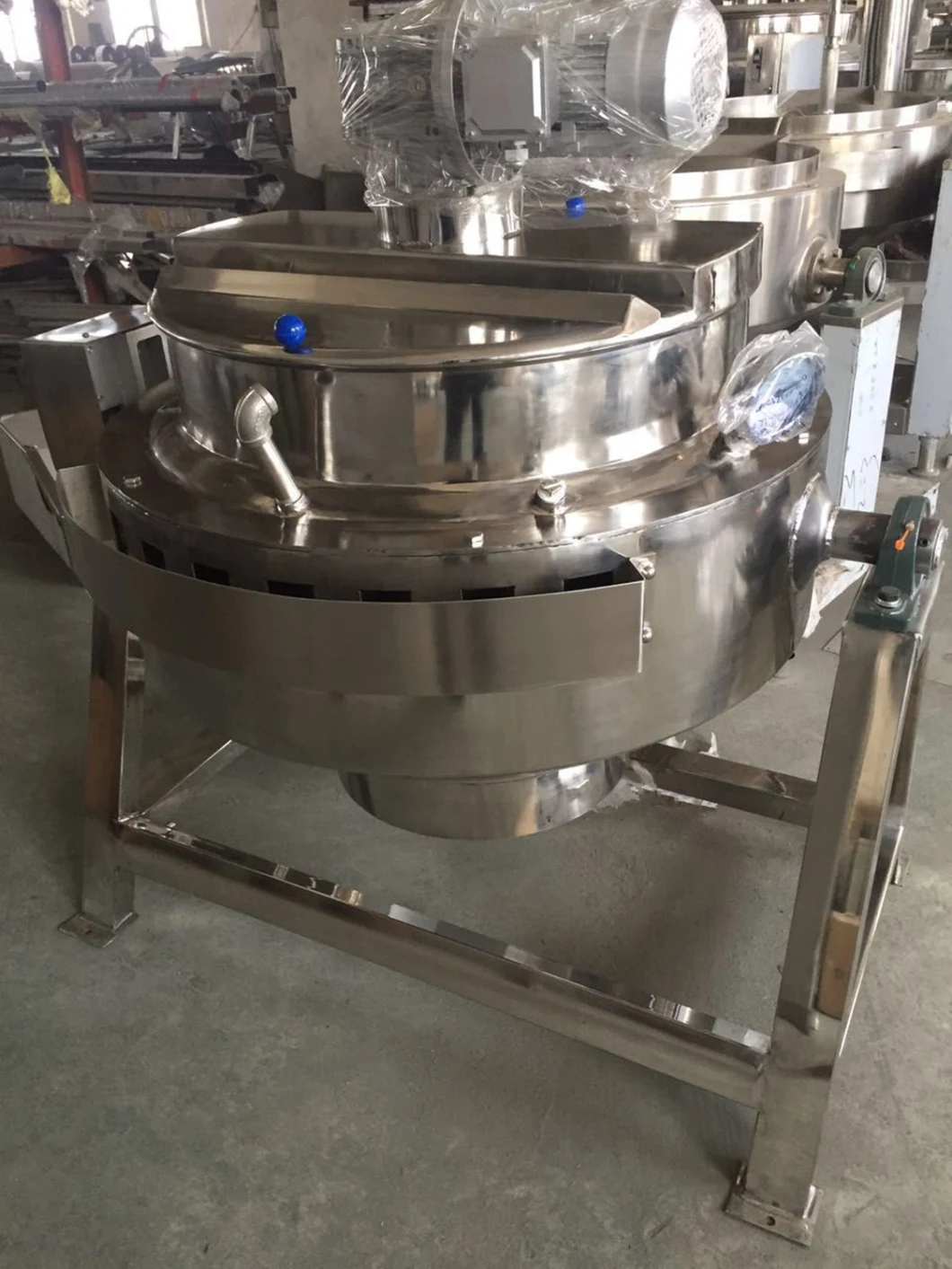 2. Structure of the stainless steel steam jacketed kettle for jam making
We have the jacketed kettle with vertical type and tilting type. For the tilting type, the jacketed kettle is consist of pan, plank, worm wheel and worm. The pan can turn with 180° . So it is easy for taking out the material. The jacketed kettle can configure the mixing system according to diffeent craft demand Steam heating and electric heating and gas heating are for your options.
This type is tilting type with electric motor and stirrer.
3. Features of stainless steel steam jacketed kettle for jam making
Machine material: SS304/316L
Capacity: : Normally is 50L-600L but can be as your demand
Type: Tilting or vertical
Heating model: Electrical, Steam or Gas
Agitator: Available
4. Characteristics of stainless steel steam jacketed kettle for jam making
1) Full burning, smokeless, dust-free, little carbon, and no environmental pollution.
2) Flame temperature can be regulated optionally, highest temperature 300 ° C or so.
3) Reasonable structure and convenient operation.
4) Energy saving, fierce fire, thermal efficiency is increased by 25% or so compared with similar products.
5) Fuel: Liquefie d petroleum gas (LPG), pipe coal gas, natural gas, and oil is strictly prohibited.
6) Gas consumption: About 20% lower than the similar products
7)Uniform heating
5. Technical parameters-- stainless steel steam jacketed kettle for jam making:
6. Jacketed kettle pictures for reference:
Application
Vertical steam jacketed kettle also named Steam boiler, it's widely used for Candy, pharmacy, dairy, liquor, cake, drink, candied fruit, can etc. Food processing, may be used for large-scale dining hall for cooking a soup, cooking the dish, the fricassee, cooking gruel and so on, it's good equipment for food processing which can improve quality, shortens the time, improves work conditions.
Characteristic
The steam boiler use the steam with pressure for heat recourse, heated area is big, heat efficiency is high, warm up is homogeneous, Liquid boiling time is short, it's easy to heat the temperature and control it.
The boiler inner tier of boilers body (inner boiler) adopt anti-acid heat abstruse Mrs. Type stainless steel fabrication, with piezometer and relief valve, attractive looks, easy to installation, operation is convenient, safety is reliable.
.Technical parameters-- stainless steel steam jacketed kettle for jam making :
Model
100
200
300
400
Caliber(mm)
Φ700
Φ800
Φ900
Φ1000
Depth of Pot(mm)
450
530
630
680
Heating area(m2)
0.58
1.12
1.42
1.75
Boiling time(min)
8
11
14
18
Interface size
Steam pipe
3/4"
1"
Condensate pipe
3/4"
1"
Working pressure
≤0.09Mpa/0.25Mpa/0.5Mpa(can be adapted according to customers' requirement)
Stirring speed
36 r/min(can be adapted according to customers' requirement)
Stirring power(Kw)
0.55
0.75
1.1
1.1
Scraping edge stirring power(Kw)
0.75
1.1
1.5
1.5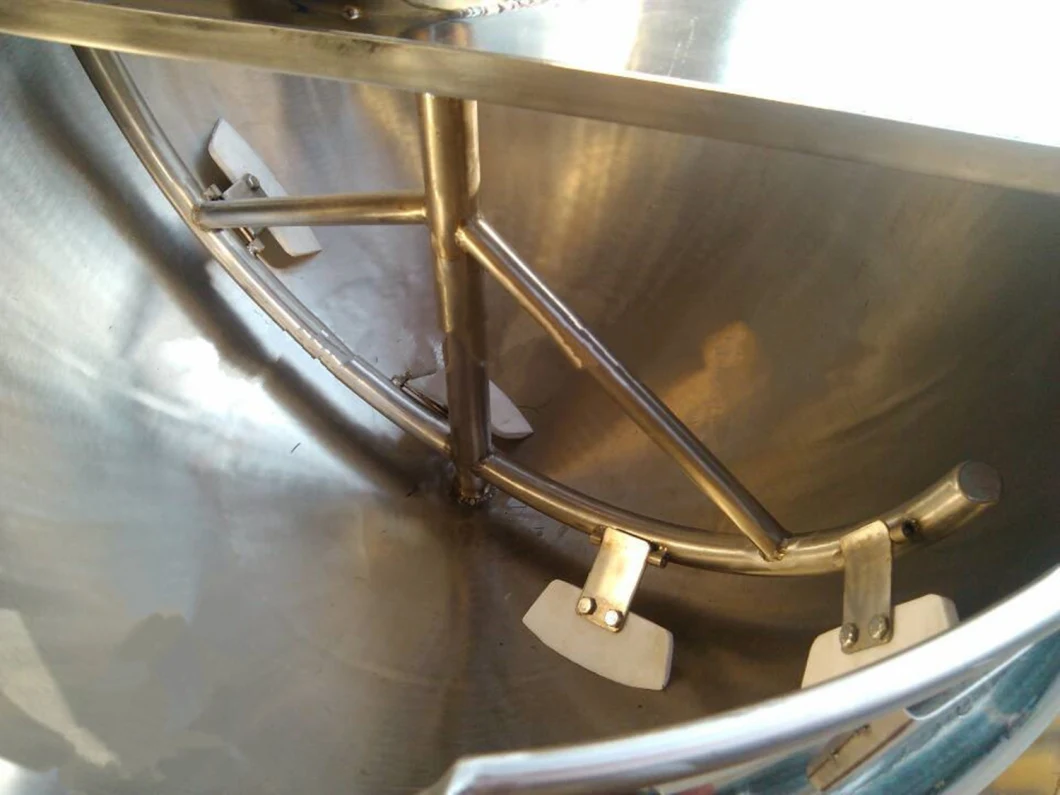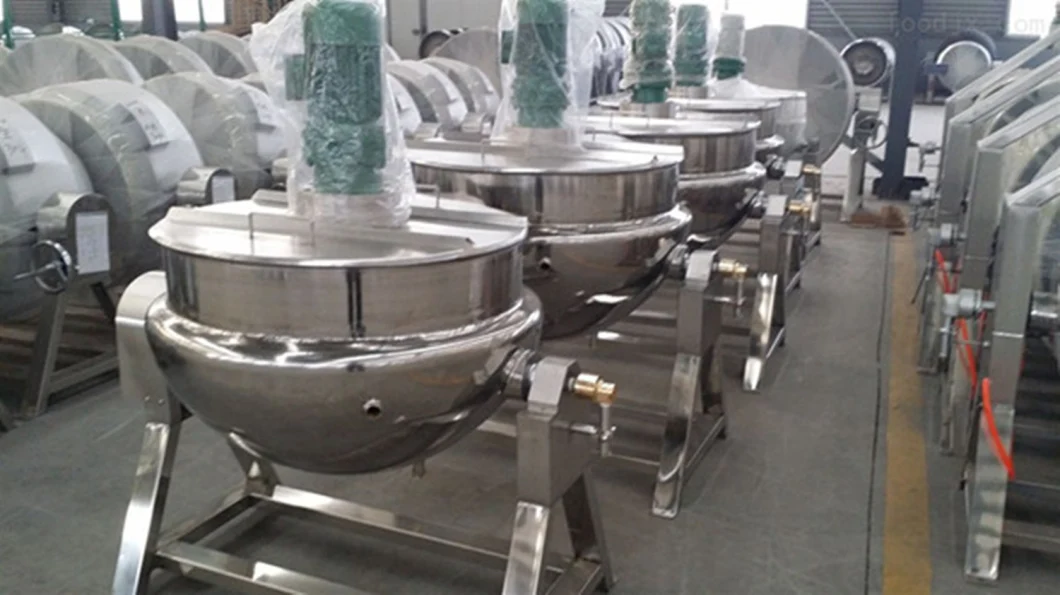 Electric Heating Jacket Kettle for Cooking Jam Kettle Jam Pot